Getting Started with Your Shower Project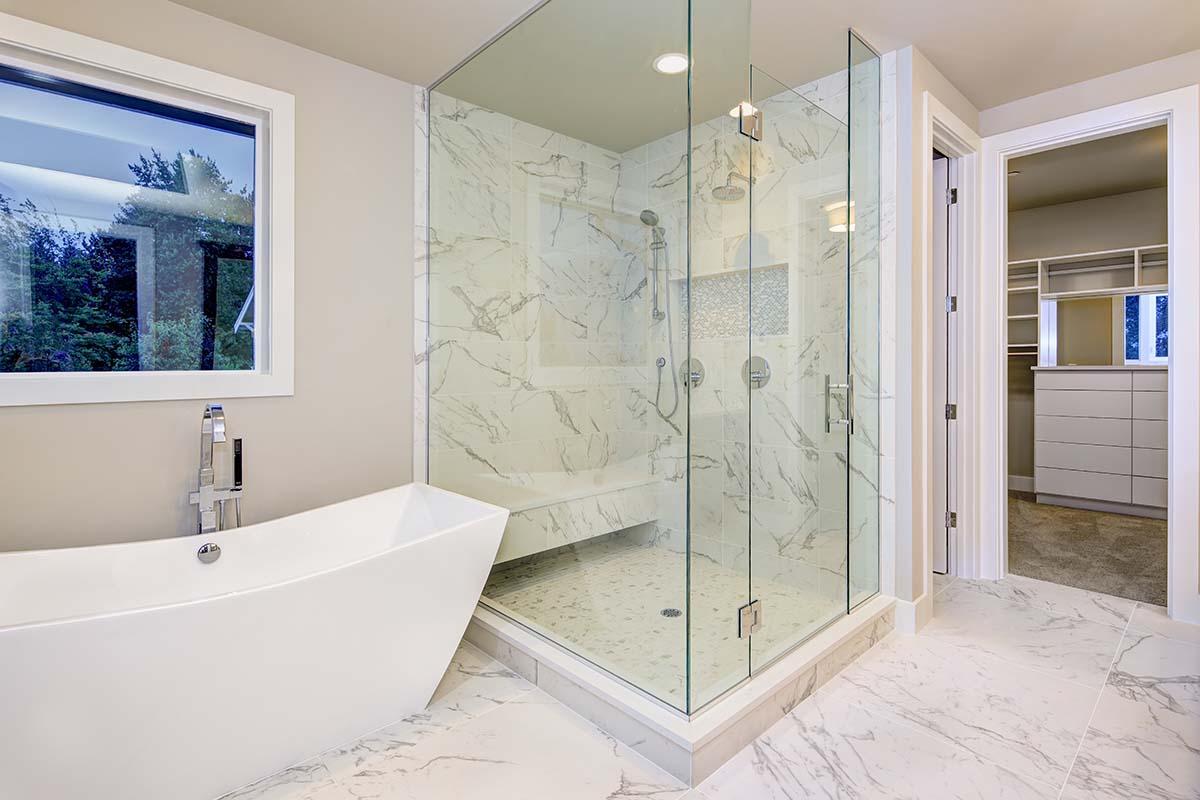 Glass shower enclosures are a highlight of any bathroom design.  They add a striking feature that is both beautiful and functional.  
Here is Our Process for Getting Your Shower Project Started
Step 1: Make a Plan
Send us your plan or a sketch.  Include a Plan view and an elevation with dimensions.  See example below.
Step 2: Pick a Type
Indicate the type of shower(s) you would like quoted. 
Step 3: Hardware and Hardware Finish
Indicate whether you want the fixed panels to be installed with channels or clips.  Hillcrest's default method is channel.  Channel blends into the perimeter of the glass and there is no need to drill through the shower curb.  Clips add a sophisticated industrial look.  Clips add costs due to additional glass fabrication. See Channel vs Clips for a more detailed summary.
Step 4: Hardware Finish 
Indicate the finish on the hardware. Our standard finishes are Chrome, Brushed Nickel, Oil Rubbed Bronze and Matte Black. Other premium finishes are available, but if you are going this direction, it is mandatory that you visit our showroom and view the samples to approve the finish.
Step 5: Building Permits
Let us know if you have a building permit so we know the correct tax to charge you.
Step 6: Get an Estimate
Now that you have this information, call us for a budgetary estimate over the phone or fill out our FREE ESTIMATE form here.
Step 7: Measure and deposit
Once you think you want to move forward, and the tile is done, we will send a technician out to laser measure the opening and refine the quote.  The technician will be able to answer your questions and make any minor adjustments that might be necessary.  When you decide to engage us to do the work, you will be asked for a 50% deposit for custom material.  
Step 8: Installation
When the glass comes in, we will inspect it and put you on our installation schedule.  From deposit to installation usually takes about 2-3 weeks.
Step 9:  Enjoy your new shower!
About Hillcrest Glass
Hillcrest Glass is a full-service glass shop located in Longmont, Colorado.  We have been providing glass in Longmont, Boulder, and nearby communities on the Northern Front Range of Colorado since 1969. We've been locally owned since the beginning.
Proud member of: