Custom Cut Glass & Mirror
Custom Cut Glass
Are you looking for custom glass for your home? We love to help with design and material selection, if you have a vision we can make it a reality. No matter what size or shape you need, we can give you options to choose from.
Our retail shop at 4th and Kimbark has been cutting glass in Longmont for more than 50 years. We have the experience to provide you the best custom glass for your home.  Call or hit Free Estimate for a no obligation quote.
Here are just a few examples of custom glass projects:
Glass table tops & furniture top glass

Glass shelves

Cabinet glass

Picture frame glass

Window glass for self-installs

Custom fabrication including circles, holes, shapes and edgework

Tempered (safety glass)

Laminated glass

Back painted glass in custom colors

Infill glass for railings
Custom Glass Table Top
If you need glass to go on top of a wooden table you need to
Measure the size of the glass, note what the corners are like. If the corners are rounded you can make a paper template of them and we can match the profile. If the corners are square we can "bump" the corners with a sander, that will make the corner less sharp but still match the profile of the table.
The edges of table top glass look very nice with a shop polish. We have examples of this in our showroom. Several factory polishes are available as well.
If the glass is an irregular size make a paper or cardboard template and we can usually cut it to a unique shape
If you need glass to fit inside a frame that does not have support under it you most likely will need tempered glass. Tempering triples the strength of the glass. You need to make sure that the glass can fit with in the frame, if there is a lip that the glass needs to slip under there need s to be a way to open the frame to get the glass in, if the frame is welded so that it cannot be opened we might not be able to get the glass in.
Custom Glass Shelves
Glass shelves can be made of glass from ¼" to ½" thick. When thinking about shelves you need to consider:
The weight of items placed on the shelves
How the shelves are supported; around the edges, or just on the ends
If heavy items will be placed on the shelves or it is in a shower the glass will need to be tempered.
Shelves can be cut in many custom shapes. A good way to get exactly what you want is to provide us with a paper or cardboard template.
Custom Cabinet Glass
We have many kinds of patterned glass in the showroom that is ideal for cabinet fronts. If you don't see what you like we can order other types. We usually install the glass by adhering it with silicone to the cabinet door. This method provides a neat seamless look and is easy to clean.
Glass fronts on cabinet doors can really update the look of a room. Glass cabinet fronts look great in kitchens, dining rooms, bathrooms and family rooms. You can often have glass panels put into existing cabinets for a fairly reasonable price. You can use clear, patterned or beveled glass depending on the look you are going for, what you will be keeping in the cabinets and your budget.
Some things to consider:
1) Clear glass really shows off the items that are behind the glass, adding lighting inside the cabinet will further amplify the showcase aspect.
2) Patterned glass comes in many varieties and differs in opaqueness, price and style. We stock popular options such a Seedy Antique, New German, Water Glass.  This glass can enhance the room design without amplifying the showcase effect. These also look great when lit from the inside.
Custom Cut Mirrors
We provide mirrors to fit any residential or commercial application. Our glaziers will measure and install mirrors to your exact specifications.
Contact us today for a quote on custom-cut mirrors.  If you are looking for additional customized glass options visit our custom glass page or custom shower enclosure page.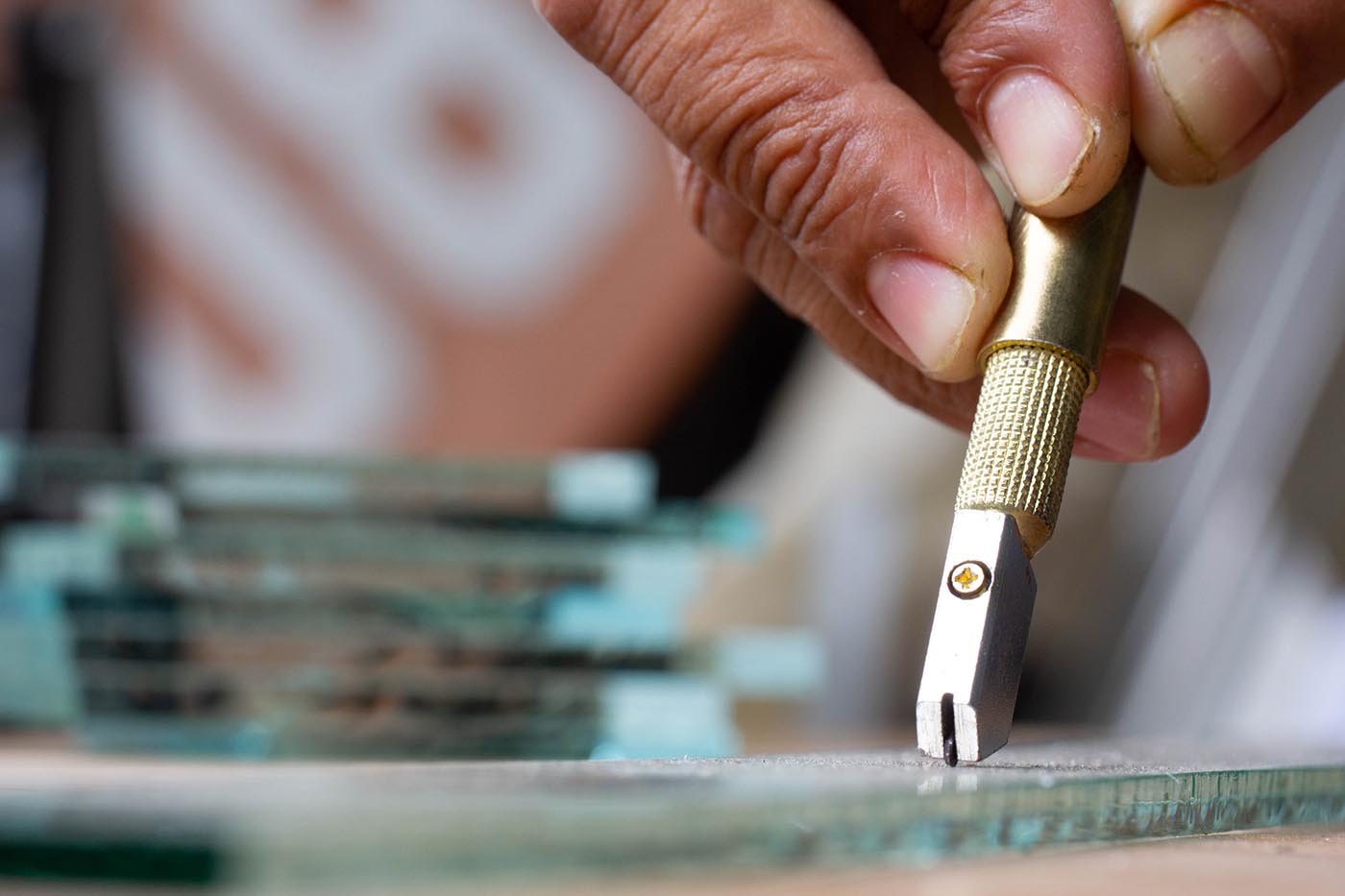 In the Field
Custom size mirrors for bathrooms

Full mirror walls for studios or gyms

Oversize mirrors

Other applications such as bars and niches

Expert onsite measurement and installation

Holes cut for outlets or lights

Out-of-square cutting and shapes

Ground, polished or beveled edgework

Safety backing available
In the Shop
Mirrors cut and installed in your frame

Shape cuts

Ground, polished or beveled edgework
Replace or Repair Your Window Screens
If you have holes in your screens or your screen frames are damaged then you have come to the right place.  We can repair or replace your window screens, keep your broken screens so we can use them as a template to make new ones. In addition, we can also create custom sizes to fit any door or window. Call us now or visit our showroom for a free estimate. 
What We Do:
Rescreens

Make new custom sized screens

Repair/replace corners and metal frame

Make new custom size sliding patio door screens

We stock a large variety of screen material and frame material

Pet guards and pet screen
About Hillcrest Glass
Hillcrest Glass is a full-service glass shop located in Longmont, Colorado.  We have been providing glass in Longmont, Boulder, and nearby communities on the Northern Front Range of Colorado since 1969. We've been locally owned since the beginning.
Proud member of: